Quality Control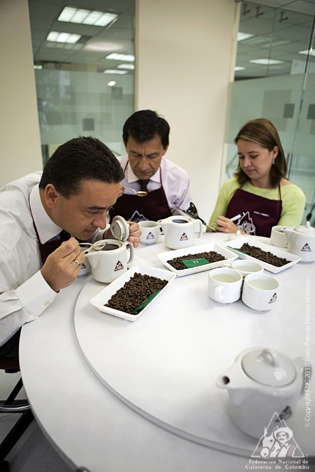 Internationally, Colombia enjoys an mportant recognition for offering coffee qualities for the premium coffee segments. This has permitted that buyers appreciate and trust the quality of Colombian coffees. Since its origins in 1927 the FNC has build a quality support system for all Colombian coffees, which has become over time one of the primary strategies in assuring the compettitiveness of Colombian Coffee.
This system of product support has been maintained thanks to consistent efforts that undoubtedly start with the Colombian coffee growers' hard work (standardized harvesting practices, manual picking, and washing and drying, also known as post harvesting practices or wet milling). Our world class research performed at Cenicafé, and our Extension Service that helps growers to optimize their returns while maintaining or improving the quality of their crops are also part of this support system.
Also, once our coffee reaches the market in our towns and provinces, several quality monitoring steps take place in every stage of the commercialization process. The National Committee of Coffee Growers has issued different Norms, Regulations, and Quality Control Procedures that are enforced by Coffee Quality Office of Almacafé S.A.
In the development of these policies relating to quality, coffee evaluated in order to verify that it complies with the export requirements. The brands that participate in the 100% Colombian Coffee® Program and Geographical Indication program are also evaluated in those markets where they are sold.
In order to carry out these evaluations, there are sixteen regional coffee quality laboratories, three maritime port coffee quality laboratories, and one central coffee quality laboratory. Also, we have associated quality control laboratories in other countries.
The Coffee Quality Office has adopted a system of quality assurance based on the existing NTC-ISO 9001:2000 norms. Currently the Coffee Quality Office has initiated with the Superintendence Office of Industry and Commerce, Colombia's regulator on Quality Norms, the process to accredit its Laboratories with the NTC-ISO/IEC 17025:2005 norm. Almacafé's certification office, known as Cafecert, is also in the process of obtaining ISO 65 accreditation.