200th edition of Hechos Cafeteros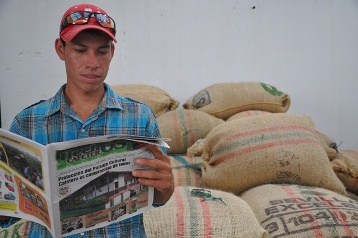 Hechos Cafeterosis a free newspaper that reaches Valle del Cauca´s coffee community every two months through the FNC´s Extension Service, Coffee Grower Cooperatives, and the Departmental Coffee Growers Committee of Valle del Cauca´s website. Besides reporting on important aspects of the coffee business, Hechos Cafeteros has demonstrated its audience that behind every cup of Colombian coffee lie hardworking men and women that strive to make Colombia a better country.
In a communication addressed to Hechos Cafeteros´s Director –Héctor F. Cuéllar–, Luis G. Muñoz –CEO of the FNC– congratulated the newspaper for its 200th edition, highlighted its accomplishments, and expressed his admiration for the diffusion Hechos Cafeteros has reached.
Colombia´s President –Juan M. Santos– also joined the celebration of Hechos Cafeteros´s 200th edition. "Throughout these decades Hechos Cafeteros´s information dissemination has influenced my decisions and those of many Colombian coffee growers. I congratulate Héctor F. Cuéllar, the members of Hechos Cafeteros´s editorial board, its editor, and other collaborators," stated Mr. Santos.
Hechos Cafeteros will continue to provide useful information to the coffee growing community, who after all, is the main audience of the news reported in the publication.