Coffee leaders from the department of Valle del Cauca receive Intelligent Coffee Grower Tablets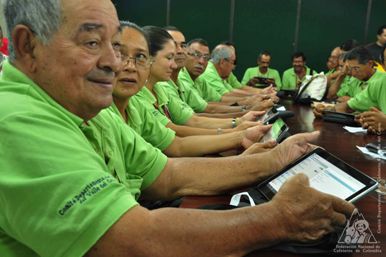 Cali, October, 4, 2012. – In order to connect coffee growers to the world, the Departmental Coffee Growers Committee of Valle del Cauca gave Intelligent Coffee Grower Tablets (ICT) to the members of the department´s Municipal Coffee Grower Committees. Besides paying 50% of the ICT´s total cost, the Departmental Committee covered the expenses of one year of internet connection.
The ICT is a tool that combines tradition with technology to improve coffee productivity. It counts with applications that provide official first hand information and allow coffee growers to strengthen their leadership.
The ICTs will also provide Valle del Cauca´s coffee leaders technical training regarding crop management. The 384 coffee leaders that currently count with ICTs have received training from Samsung and representatives of the Colombian Coffee Growers Federation in order to give the device an optimal and effective use.
Coffee growers were very pleased and interested in the new technological tool. According to Luis E. Pedrahita, member of the Municipal Coffee Growers Committee of Buga, "the ICT is going to be very useful. Besides allowing me to report everything that happens in my farm, with the ICT I will be able to help fellow coffee growers. I'm very grateful because this tool will foment progress."
Similarly, Efraín González, member of the Municipal Coffee Growers Committee of Bolívar stated, "the ICT will encourage interaction with our peers from the Municipal and Departmental Committees. It is a very useful tool which we are daily learning how to use."