Colombia's coffee production returns to pre-crisis levels
Good news for lovers of Colombian coffee. There are plenty of beans coming out of the Latin American country after a strong harvest last year, and forecasters are predicting further output growth over the next few years.
Production of the country's arabica coffee, the high quality bean valued by the cognoscenti for its mild and smooth flavour, was devastated by the disease known as la roya. However, Colombian growers have overseen a remarkable recovery in output after an extensive renovation programme over the past five years.
"It's been our great leap forward," says Luis Samper, marketing director at the Colombian Coffee Growers Federation (FNC). The return of Colombian coffee production to pre-crisis levels, as well as the output recovery in other Latin American countries affected by la roya, has largely been overshadowed by the coffee market's concern over the past year about production in Brazil, the world's largest producer and exporter.
The Brazilian drought at the start of 2014 wreaked havoc on the country's coffee production, and uncertainty clouds this year's prospects for its farmers. In Colombia, after the initial coffee rust outbreak in 2008, output plummeted to 7.7m 60kg bags in 2012, down from 12.6m in 2007. The disease then spread to Central America, hitting production in countries such as Honduras, Guatemala and Costa Rica. After replanting almost 3.2bn trees with disease resistant varieties since 2009, Colombia's coffee harvest in 2014 reached 12.1m bags, a 12 per cent increase from the previous year. The added bonus for Colombian coffee growers has been that the production increase has come at a time when lower production in Brazil has boosted coffee prices. The value of Colombia's 2014 harvest totalled $5.4bn pesos, a 23 per cent year-on-year rise, according to the FNC.
Farmers in Mexico and Central America, who were also affected by the coffee rust, have similarly seen a rebound. Output in the region, which accounts for a fifth of the world's arabica output, is forecast to rise 3 per cent to 17.3m bags in 2014 from the year before, according to the International Coffee Organization.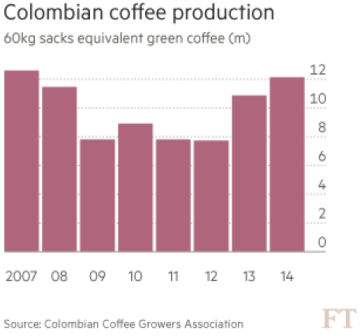 Honduras, Mexico, Guatemala and Costa Rica are expected to see "a decent recovery", says the ICO, although the output level is still 14 per cent lower than in 2011, before the rust hit the region's coffee crops. But not everything is rosy in the region. Coffee bulls may take comfort from the fact that not all la roya-hit countries have managed to stage an output rebound. The recovery in production "has been a little bit of a mixed bag", says Keith Flury, head of research at Volcafe, the coffee arm of ED&F Man. El Salvador is struggling with 2014 output at 680,000 bags, half that of 1.4m in 2012. Colombia's neighbour Peru has also failed to overcome la roya, producing 3.4m bags in 2014, down sharply from 5.3m in 2011 and the lowest since 2009, according to the ICO.
As Colombia's case has shown, any renovation effort has to be a joint one involving agronomists, technicians and financiers co-ordinated by a central organisation. Apart from Honduras, many of the smaller countries' coffee sectors lack the ability to organise such a programme, say coffee industry officials. Even if they did, "a good Colombian crop and a slight recovery in Central American production will not be enough to offset losses in Brazil", says Carlos Mera, senior commodities analyst at Rabobank in London.
Output in Colombia and some of the other Latin American coffee growers outside Brazil is expected to continue to recover, but there is considerable uncertainty over this year's crop for the world's largest producer.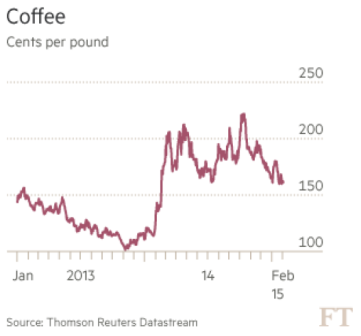 Although Brazil's drought sharply reduced last year's production, the resulting tree damage is expected to continue affecting this year's output, say analysts. Estimates range between about 27m-34m bags for Brazil's arabica harvest, compared with an average of some 35m in the five years to 2013. "[Brazil's] weather since the start of this year has been less than ideal," says Mr Mera, who predicts a global supply shortfall in the 2015-16 crop year with arabica prices currently trading at about $1.60 a pound, rising to $2.10 in the second quarter. If that is correct, aficionados of Colombian coffee may be paying more for their brew later this year despite the plentiful supplies.