Juan Valdez Café opened its store no. 200 in Bogota.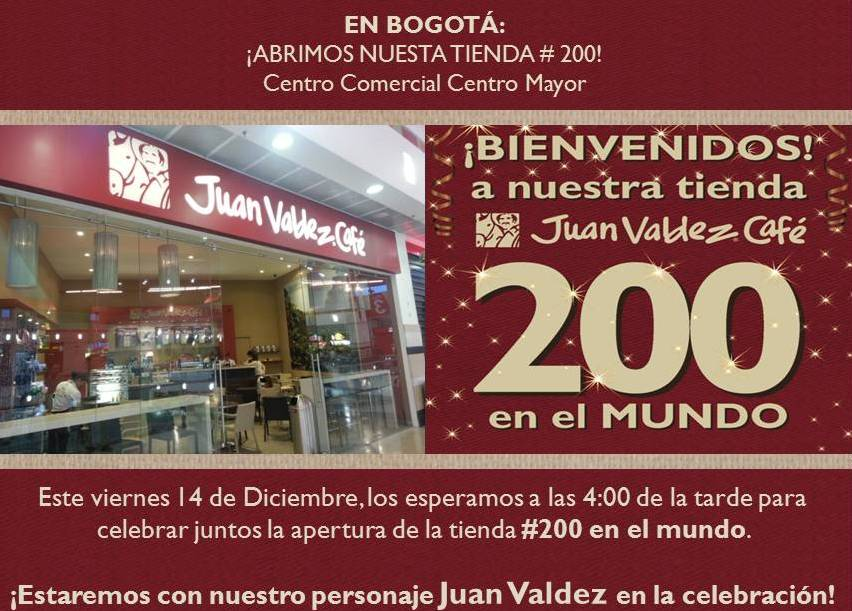 Juan Valdez® Café –the brand that belongs to Colombian coffee growers– announced the opening of its 200th café in Colombia´s largest shopping center located in Bogotá: Centro Mayor. The new café is expected to receive more than 15 thousand people per month and 200 thousand per year.
With the opening of the café in Centro Mayor, a total of 156 Juan Valdez® Cafés are currently operating in Colombia and a total of 44 cafés in other countries such as the United States, Spain, Chile, Panama, Aruba and Ecuador.
According to Hernán Méndez, President of the company that manages the Juan Valdez® brand, Procafecol S.A, "This is a significant milestone for Juan Valdez® considering that the brand only has ten years of history…In this period we have developed an inclusive business model that connects the consumer and the producer while generating welfare for both of them. This philosophy is a unique value proposition for high quality coffee consumers that will reach many other countries in 2013."
Juan Valdez® expects to open 39 cafés in South Florida in the upcoming 5 years, 39 cafés in Mexico by 2013, and six cafés in Panama. The brand is also developing plans to consolidate Juan Valdez´s presence in other Latin American countries.