Purchase Guarantee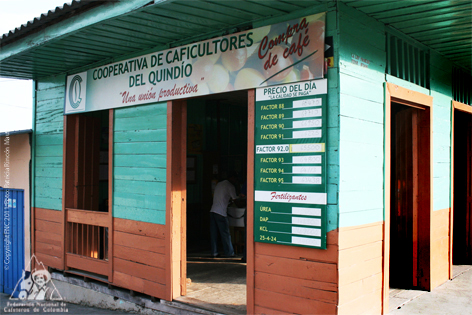 When there is no competition for coffee in a municipality or village, small coffee growers loose their capacity to negotiate with the local and regional buyers. Businesses made in a "small seller - large buyer" context have lead to a reduction in local coffee prices of up to 40%. This asimetry leads to a reduction in negotiation power to coffee growers who are not in a position to access the economies of scale, to reduce his/her transaction costs and to negotiate on equal terms with large buyers. The Purchase Guarantee policy is designed to provide leverage to small coffee growers that face these conditions in their local markets.
It is for this reason that the purchase guarantee is considered the most significant service that the National Coffee Fund and the FNC offer to Colombian coffee growers. This service assures Colombian coffee producers that at the moment to sale the coffee, he/she will always find a buyer that is willing to pay a market price without taking advantage of the small coffee grower's condition. The price which is communicated daily by the Federation, constitutes a reference point for the market. It is public and is based on criteria of transparency and the current conditions of the international coffee market and the exchange rate.
In order to make effective the Purchase Guarantee policy, certain logistical capacity and market presence is required. For this reason the Federation counts on the service of more than 36 coffee cooperatives and a network of over 541 points of purchase, many of them located in the remote and difficult to access coffee regions of Colombia.