Coffee Elections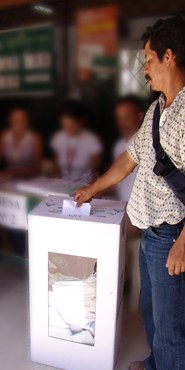 The Coffee Elections are the base of our legitimacy as representatives of the Colombian coffee growers. Although there are many organizations in the world interested in the well-being of coffee producers, none can demonstrate the representation and geographic scope of the Federation. The election of coffee grower's leaders has been an instrument to allow the FNC to understand the true needs and complexities of the Colombian coffee industry and interpret the grower's true interests. The Federation's elected grass root leaders convey those needs in an efficient manner. They are characterized by their vocation to lead and serve their peers, and their interest to participate in their communities' development.
The regular elections of the members to the various branches of the FNC guarantee that the Federation's representatives permanently consult the necessities and priorities of the producers. This explains why the elections are the event of greatest significance for our leaders. Among them the leadership of the Federation is chosen. It is composed of by the delegates to the National Congress of Coffee Growers, and the members of the departmental (states) and municipal committees.
The last Coffee Elections were held on September 2006. The members to 356 Municipal Committees and 15 Departmental Committees were elected then. In these elections more than 201,000 federated coffee growers participated, 25% more than the prior elections in 2002. Of the more than 12,000 who announced their candidature for diverse positions within the Federation, the coffee growers elected 4,452 for the Municipal and Departmental Committees.
Significant Results from the Previous Coffee Elections
The voting of 201,273 coffee growers shows a participation of 65% of the coffee growers that were able to vote. That percentage is a higher statistic than those observed for the presidential and legislative elections in Colombia, which demonstrates the sense of belonging of the coffee growers to their Federation.
The 40,000 additional coffee growers that voted in 2006 compared to 2002 represented an increase in participation of over 24%.
In six of the departments the grower participation was greater than 70%. This figure is significantly high because many rural in habitants have many obstacles (like long distances and scarce transport) in order to vote.
The number of candidates was the highest in the previous history of the Federation.
In order to facilitate the electoral process, the federated coffee growers had four options to vote: mobile phones, blue telephones located at coffee points of purchase, Intelligent Coffee ID and the internet. These innovative modalities of voting facilitated the participation of coffee growers in our latest democratic process.