Extension Service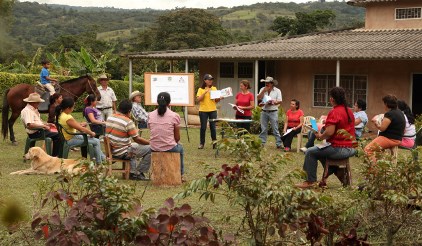 The Extension Service (ES) of the Colombian Coffee Growers Federation and its Coffee Departamental Commitees was created in 1959 to support coffee producers with technical, social, economic, environmental and other Federation programs. It is because of this reason that it is often referred to as an "Army of Peace". The ES also helps producers in the construction of their coffee business by transmitting to them knowledge related to the cultivation of coffee. It is recognized as one of the most important systems of support and partnership of coffee growers of our country.
The commitment and methods of the FNC's extension service, as well as its results and constant improvement system, allowed this service to be certified under theISO 9001:2008 standards for Quality. .
The persons that work in our Extension Service are called extensionist and can be identified with the yellow shirts they wear. Currently, this service is conformed by almost 1,500 men and women that travel across the different coffee growing regions of Colombia. Their work commitment to coffee growers, helping them in many ways such as technology transferring, improving the coffee quality , and the productivity of the coffee farm, so they can earn more income. The ES' objective is to constantly seek to improve the producer's quality of life through the adoption of appropriate practices for coffee production, and to find ways to stimulate the relationship with coffee growers in social, infrastructure, and environmental projects that contribute to their families' well-being.